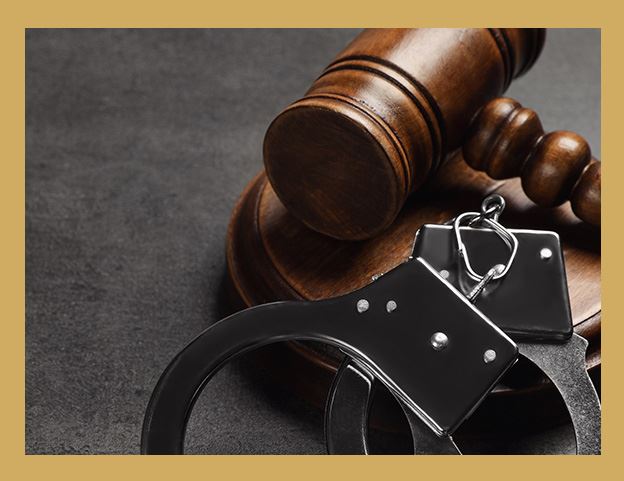 Criminal Defense
Advocating for the Accused
College Station Criminal Defense Lawyer
Get an Advantageous Edge on Your Defense with the Help of a Former Detective
The Law Office of Donnie Andreski, P.C. practices exclusively in criminal defense and offers a full range of services, from DWI defense to expunction and nondisclosure filing. The firm is led by a former police officer and detective, whose investigative skills and experience working on the other side can provide a unique edge to your defense. College Station criminal defense lawyer, Donnie Andreski, can better anticipate what the prosecution and law enforcement will attack, as well as what defense methods work best for different types of cases, so he can help you build a formidable defense against your crimes. Not many College Station criminal defense attorneys have a law enforcement background like Attorney Andreski's, so you can trust that you will have a unique advantage with him on your side.
---
Schedule a free consultation with The Law Office of Donnie Andreski, P.C. online or call 979-356-3766 to discuss your defense options in detail with our College Station criminal lawyer.
---
Cases Our Firm Handles in College Station/Bryan
You can expect attentive and high-quality representation with The Law Office of Donnie Andreski, P.C. No matter your case, Attorney Andreski will dedicate extensive time to talking through your case, answering all your questions, and investigating deeply into your defense options. Criminal cases the firm handles include:
What is a Defense Attorney?
A criminal defense attorney is a legal professional who provides legal representation to individuals and businesses that are accused of committing a crime. They help their clients navigate the complexities of the criminal justice system, from initial investigations and questioning to trial proceedings and appeals. The primary goal of a criminal defense attorney is to ensure that the constitutional rights of their client are protected throughout the legal process.
In many cases, criminal defense lawyers may work with prosecutors in an effort to negotiate plea deals. These agreements can offer defendants reduced charges or sentencing in exchange for a guilty plea or other action. Criminal defense attorneys also work hard to build strong defenses on behalf of their clients, using every available resource to challenge evidence and assertions made by prosecution lawyers. If necessary, they will also be prepared to take a case all the way to trial.
No two criminal cases are identical, and it is important for defendants to secure legal representation that is tailored to their specific needs. A qualified criminal defense attorney will have the knowledge and experience necessary to effectively represent their clients in court. With the right counsel, individuals facing criminal charges can be sure that their rights are protected throughout the proceedings.
How to Find a Criminal Defense Attorney for Your Case
There are several characteristics that make a good criminal defense attorney in College Station, TX. As you begin your search, keep these qualities in mind:
Experience - Experience in the courtroom is one of the most important factors you should consider when choosing the right College Station criminal defense attorney. Not only should you hire someone who has significant experience going to trial, but also someone who has handled your types of cases before and is familiar with how the law works surrounding that particular type of criminal charge. Attorney Andreski provides the unique benefit of having been a former police officer and detective, which means he is familiar with how the criminal justice system works from both the prosecution side and the defense side. This experience can be invaluable, particularly when looking into whether or not the charges being brought against you are valid.
Success Rate - Another important factor to look at when choosing the best criminal defense lawyer in College Station/Bryan, TX for your case is their success rate. This can include how often they are able to get their clients acquitted for criminal charges, as well as how often they've been able to negotiate a decreased sentence or favorable plea bargain on behalf of their clients. You can visit this page to read some of our testimonials from former clients

.

Dedication & Availability - While it's not uncommon for some defense attorneys to take on multiple cases at once, it's important that whoever you hire to represent you has the dedication and availability necessary to ensure your case gets the amount of attention it deserves. Attorney Donnie Andreski is available 24/7 to answer any questions you may have. When you hire our firm you will also have direct access to your attorney from start to finish.
Fees - It's important that you understand how your criminal defense attorney will be compensated. This is a question that can usually be addressed in your initial consultation. At The Law Offices of Donnie Andreski, P.C. we offer free initial consultations to all potential clients

, either in person or over the phone.
Why Choose The Law Office of Donnie Andreski, P.C. for Your Criminal Defense
When facing criminal charges, it is crucial to have a skilled and experienced defense attorney by your side. At The Law Office of Donnie Andreski, P.C., we offer a unique advantage with our background in law enforcement.
Our founder, Donnie Andreski, is a former detective and police officer who has an in-depth understanding of how criminal investigations are conducted. This firsthand knowledge allows us to anticipate the prosecution's strategies and build a strong defense on your behalf.
Here's why you should choose us for your criminal defense:
Unmatched insight: With our background in law enforcement, we have a unique perspective on criminal cases. We know how evidence is collected, how witnesses are interviewed, and how the prosecution builds its case. This insight allows us to identify weaknesses in the prosecution's argument and develop a strong defense strategy.
Extensive courtroom experience: Our team has years of experience representing clients in the courtroom. We are familiar with the local court system in Bryan, TX, and have built strong relationships with judges, prosecutors, and other legal professionals. This experience gives us an advantage when negotiating plea deals or presenting your case in front of a jury.
Personalized attention: We understand that every criminal case is unique, and we believe in providing personalized attention to each client. We will take the time to listen to your side of the story, gather evidence, and develop a defense strategy tailored to your specific situation. You can trust that we will fight tirelessly to protect your rights and achieve the best possible outcome for your case.
Don't leave your future to chance. Put our experience and expertise to work for you. Contact The Law Office of Donnie Andreski, P.C. today to schedule a consultation.
Put a Former Detective & Police Officer On Your Side Today!
It can feel stressful and overwhelming to navigate a criminal accusation alone, especially when you might not know what legal recourse you have. Whether you seek to combat an unfair allegation or have questions about post-conviction relief options like clearing your criminal record, The Law Office of Donnie Andreski, P.C. is here to help.
---
Ready to meet with Attorney Andreski about your criminal case? Reach out to us today by calling (979) 356-3766 to schedule your free consultation. We're also available after business hours and on weekends, for your convenience.
---

Criminal Defense Services
Explore our case types to learn more about how we can best represent your case.
View All Services If you're looking for an outstanding honest lawyer to represent you, Donnie Andreski is your man.

- J.A.

I always feel confident that everything's going to be okay while working with him.

- M.B.

Very professional, knowledgeable, and easy to work with.

- Travis P.

He was responsive, knowledgeable and above all honest.

- G.H.

Terrific guy and an excellent attorney.

- P.F.